Thursday, May 11, 2006
Cisco systems and T-systems partner to provide Integrated Voice, Data and Security Services to Medium-sized and large Businesses.
Cisco systems and T-Systems have announced a relationship that focuses on harnessing advanced technologies. This step aims at improving cost efficiencies and productivity for large and medium-sized businesses.
The two companies are working together to provide a range of services like IP, LAN. They are also working at developing solutions for vertical markets such as financial services and radio frequency identification solution for the transport and retail sectors in Germany.
Both the companies would cooperate in areas of marketing, sales and business development over the next three years. Tailor made packages would be made to provide feature IP-based networking solutions integrated with value-added services such as IP communications and security to medium-sized businesses.
The integrated RFID solution developed by the two companies would help the transport and the retail sector.
Wednesday, May 10, 2006
NATIONAL MANUFACTURING WEEK TO HOLD MASTER CLASS FOR RFID
The National Manufacturing Week 2006 at Sydney's Darling Harbour from May 30 to June 2 will have a one day master class on RFID challenges, practices and principles. The RFID technical institute in association with the International RFID Business Association is arranging the Radio Frequency Identification technology master class. The key applications of the technology will be taught at these classes for providing a strong foundation for those interested in learning the key elements of RFID.





The class would include attendees on the basis of a series of learning modules aimed at building technical competency and business awareness in understanding how RFID can help the firm to leverage manufacturing performance improvement.

The following topics will be included in the master class

· RFID key concepts and components for manufacturing

· The science behind RFID

· Technology challenges and constraints for applying RFID in the factory

· RFID enabled work-in-process tracking

· Managing parts inventory with RFID

· The use of RFID to reduce parts defects

· Improving worker productivity and factory floor throughput with RFID

· Integrating RFID with Six Sigma

· Best practices for getting started with RFID

· Key lessons and insights from manufacturing RFID projects.



The participants will have a question and answer round at the end of the class with the members of the RFID Technical Institute faculty and the guest speaker panel. World class instructors who have full knowledge of the industry would offer the participants a wide diversity of disciplines, viewpoints and insights.

Cost of the RFID Master Class is $950 per delegate with an early bird rate of $850 (for bookings before May 19). Seats are limited, so prospective attendees need to book as soon as possible.






Tuesday, April 18, 2006
SOUTH KOREAN RFID MARKET GROWING AT A RAPID PACE
The South Korean RFID market is growing at a rapid pace. This can be attributed to the presence of conglomerates like Samsung electronics and LS Industrial systems. These companies are expanding their ass production. The global competition is causing the prices of the tags to be lowered. It seems that the South Korean manufacturers are likely to continue this trend and offer tags at competitive prices. The collaboration between the South Korean government and institute has furthered the growth.
National RFID trial services have played a pivotal role in increasing RFID adoption. The RFID projects that started in 2005 have been deployed in manufacturing operations, logistics, consumer goods, defense, shipping and transport. The logistics market has the highest adoption rate. South Korean vendors are also working with the government and each other in an official organization that will focus on cross-sharing patents.
DOS ATTACKS RFID
It has been proved by researchers that RFID tags can be targeted. Researchers at Edith Cowan University in Perth found that when the RFID tags were overloaded with information and data, they were not able to function.
Academics in the Scissec research group at Edith Cowan University warned:
Vulnerabilities in the newer UHF style of RFID tags have been found and are of
concern for anyone trying to implement a RFID system that would have mission
critical or human life issues involved in it.

Many companies have been ysing RFID tags in their supply chain but the tags are generaaly not used in life-critical situations. Researchers have found that even generation two tags, which are better than the generation one tags can be disrupted.
When the RFID tags are in range the tag reader identifies the tags and communicates with them. The raders communicate in the frequency range of 902-928MHz. This range was first supposed to be though as a safety measure as the reader could hop between frequencies. Australian researchers have found that hopping attack fom
DOS
is still possible as the tags ca not hop from one frequency to another but need raders for that purpose. The researchers demonstrated that from a range of 1 metre they could disrupt communications between tags and readers by placing the tag in a "communication fault state".
Monday, April 17, 2006
SYBASE INC LAUNCHES RFID ENTERPRISE 2.0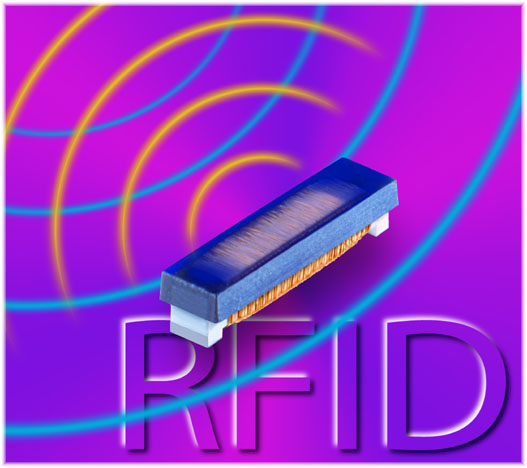 Sybase enterprises an infrastructure and mobile software provider has launched the RFID Enterprise 2.0.
RFID Enterprise 2
.0companies to meet the design, deployment and integration challenges presented by enterprise-scale RFID deployments. The enterprise will provide a full featured integrated development environment supporting business process orchestration, rules and transformation, business activity monitoring and mobilization features such as alerts and notifications.
The key feature of RFID enterprise is device grouping, DBMS that includes on-disk encryption, smart partitions and patented query processing technology, multi protocol support.
Tuesday, April 11, 2006
Virgin Atlantic to use RFID tags
Virgin Atlantic
has become the first airline company in the U.K to use RFID tags to track parts onsite. Symbol Technologies, Inc., the Enterprise Mobility Company, and its Premier Solutions Partner, PEAK Technologies have been chosen by Virgin Atlantic to supply the RFID technology. This is a pilot phase.
These installations are based at the Virgin Atlantic's facility at the Heathrow airport. Three AP300 access ports with external antennas support onsite data exchange at each location and the MC9000-G mobile computer enables precise real-time scanning and data entry, providing Virgin Atlantic's staff with inventory control and instant visibility into their supply chain.
The project is called Tracked by Radio Identification Method and has been deployed at Virgin Atlantic with the specific aim of tracking serialized aircraft parts and tools at their main supply facilities and throughout their supply chain.
As Virgin Atlantic is Britain's second largest carrier it is trying to find out the efficiency of the RFID technology in its warehouse and improve its efficiency.
IDVELOCITY ACQUIRED BY NCR
NCR Corporation
has taken over the assets of IDVelocity LLC. IDVelocity LLC is a company based in Greensboro, N.C. Greensboro, N.C. helps companies collect and and utilize data from millions of RFID tags.
The acquisition of IDVelocity LLC will boost NCR's RFID solution portfolio. One component of NCR's RFID solution is the Teradata database. IDVelocity technology supports the ability of a Teradata(R) Warehouse to provide actionable analytics by tracking and evaluating item movements at a detailed level and to see those movements at more frequent points in the supply chain.
It seems to be a great opportunity for NCR Corporation to move ahead and achieve greater heights with the inclusion of the newly acquired assets.
Friday, March 31, 2006
G2 brings RFID every where
G2 Microsystems
has launched an RFID chip for RFID tags that can be read by WiFi access points. The new technology does away with the network of readers and gives the user approximately 75% reductions in costs. The technology helps companies save cost as there is no need for manufacturing rfid projects but use WiFi access points instead.
The new information technology rfid tags would enable an easy access to the internet and enable to communicate with the server. The chip has a in built receiver wich helps to locate the tagged goods within 3 meters. Well the chips will give a new dimension to the RFID industry and improve the precission of the technology.
Friday, March 24, 2006
RFID Smart labels Europe 2006 – Te place to be.
Europe's
most important and established RFID show will commence on the 19th of September to the 21st. the show will be held at the Guoman Tower Hotel in London. The entire RFID world will be in one place, it truly will be a spectacular site. Local companies will tour and we are bound to find outstanding new technologies on rfid.
The show will have government official from outries like China, Japan and Korea. The aim of the show seems to be to capture the niche market